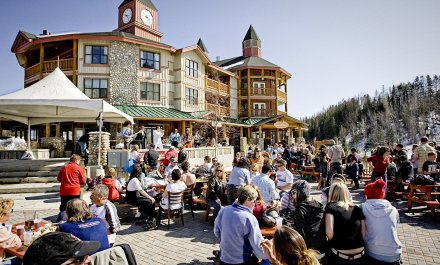 Kimberley is a city with a playful spirit – and we like to celebrate all the great ways to play here! You're invited to join in our many unique community events, whether you're a local for a lifetime, a day, or somewhere in between. A few of our annual events are listed below.
Get up close and personal with the City's Public Works Professionals and the vehicles and equipment they use every day!  Enjoy this free event including demonstrations, displays and a free lunch, too. Public Works Day is celebrated every year usually on the 3rd Wednesday in May.  Whenever possible, tours to the Mark Creek Dam are also offered during Public Works Day. Contact Operations & Environment Services for more details at 250.427.9660.
Celebrate community – and craziness! – at JulyFest, Kimberley's legendary hometown festival.
Our local Farmers' Market is open during the summer months on Thursday evenings from 5-7:30pm on Howard Street near the Platzl.
Take in Kimberley's annual Festival of the Arts at Kimberley Kaleidoscope and Kimberley Plein Air!
NEW this year! Kimberley Alpine Discovery Camp, an urban mountain experience for ages 8-14.
Game for a challenge? Athletes and adventurers of all ages can participate in Round the Mountain  - a unique Kimberley event combining running, hiking, mountain biking, kids' races, live music, food, and fun!
From July through October, make sure to catch First Saturdays, Kimberley's monthly celebration of arts, culture, and community.
The Gerick Sports Wasa Triathlon is suited to the whole family!  Events for athletes aged 4-15, 16+ and 18+, individual events and relay teams.
The Kimberley Medieval Festival in early July is a free festival for all ages.  Dress up in your best medieval garb or come in street clothes and enjoy  an authentic Viking village, battle reenactments, Viking story telling, and so much more!  In the Platzl.  Contact the Kimberley City Bakery for details.
For more information on what goes on in and around Kimberley, see the Kimberley Active Community Guide.