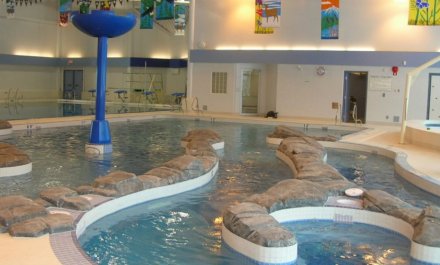 Kimberley's beautiful Aquatic Centre is a great place for folks of all ages to get fit and have fun! Whether you're training in the fast lane of the Bert Banks lap pool, floating down the Lazy River, or enjoying the spectacular hillside view from the hot tub, you'll be surrounded by good friends and great staff. Each month, local businesses sponsor a Free Public or Family Swim evening, so you can bring your whole clan. And we host parties, meetings, and other events in the Kimberley Alpine Resort multi-purpose room too!
---
Features
The Aquatic Centre is a disability accessible building featuring a 25-metre, 5-lane 'Bert Banks' lap pool with a competition diving board, a leisure pool with fun water features including a teacup spray waterfall and Lazy River, a hot tub, steam room, outside deck and the 'Kimberley Alpine Resort' multi-purpose meeting room a great place to hold your next birthday party or meeting! 
Swimming lessons are available for children of all ages, from Parent & Tot classes to Swim Kids classes for ages 5 and up. Advanced young swimmers can sign up for leadership, water safety, and babysitting courses. Click on the links below for more details.  Adult drop-in classes are a great way to get in shape and meet new friends. Adult drop-in classes are listed on the Aquatic Centre schedule below.
2018 September to December Red Cross Swim Lessons
2018 September to December After School Programs
2019 January to March After School Programs
Free Community Swims
2018 December 12 FREE Family Swim Sponsored by Kimberley United Church
2018 December 19 FREE Family Swim Sponsored by Kimberley Health Care Auxiliary
Schedule and Fees
The Kimberley Aquatic Centre is open year-round, with a short break for annual maintenance. Swimming is available every day, classes and programs take place Monday through Friday. Community sponsors offer free family swim evenings on the first Wednesday of each month from 5:00 to 6:00 PM. There's always something going on!
Click on the link below for full schedule details and fee information:
2018 September 3 to December 23 Pool Schedule
December 23, 2018 January 6, 2019 Pool Schedule
Contact
For further information, contact the Kimberley Aquatic Centre at 250.427.2983 or kacinfo@kimberley.ca. The Aquatic Centre is located at 520 Archibald Street, across from the Civic Centre Arena. Our mailing address is 340 Spokane Street, Kimberley BC V1A 2E8.